It has been said that the practice of home decorating with shutters can be traced back to Ancient Greece, where builders appreciated the versatility of shutters, providing both light control and ventilation. Early craftsmen most likely designed those shutters with marble louvers. Not long after, as shutter popularity began to sweep across Europe, craftsmen began using wood to construct shutters, as wood was a more suitable material. The use of shutters spread further west when the Spanish started colonizing the Americas.
Plantation Shutters originated in the southern United States, where grand mansions were erected on cotton plantations. This particular style of shutter has a wider louver, (or vane), than those early shutters from Ancient Greece. The Plantation style remains a popular style to this day, and may be featured on both the inside and the outside of American homes. Today's shutters are made from a variety of materials, including solid wood, faux wood and vinyl, while some manufacturers offer
Soft Shutters
, which feature fabric covered louvers. Solid wood truly enhances this timeless style, with it's ease of care, versatile function, range of size and shape, and the warmth and beauty of hardwood finishes. With normal care, hardwood shutters can last a lifetime and thanks to their rich history, you can rest assured that shutters will be in style for years to come.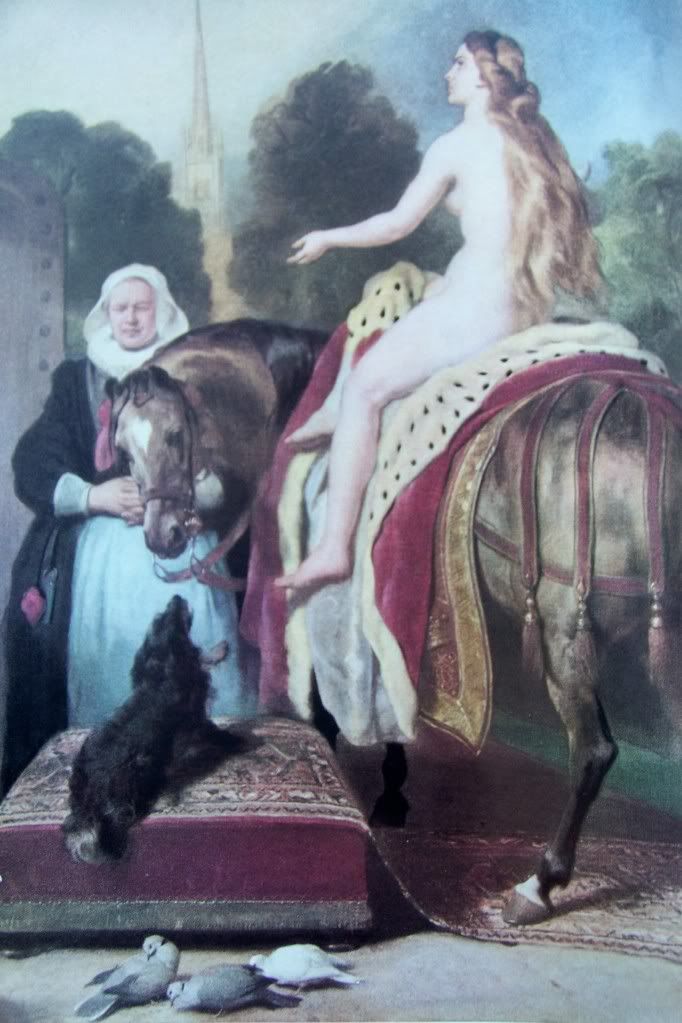 There are some fascinating legends that include shutters. Did you know that Lady Godiva rode naked through the streets of Coventry on a white horse in order to make her husband remit a heavy tax on the people? Residents remained closeted inside their homes on this day, except for a man named Tom, who peeped through shutter louvers for a glimpse of this beautiful lady. Hence, we have the term
Peeping Tom
!
Then there's King Louis XIV, who enjoyed watching the ladies bathe in the ponds of his gardens in Versailles... Louis did not wish for his palace guards to be distracted, so he installed shutters around the garden walls, so that the guards' view was blocked and he alone could peep through the louvers to gaze at the bathing women.
What is
your
reason for admiring shutters?
Many of you are familiar with my Antiques and Collectibles store,
Fleapirates Plunder
at
OnlineAuction.com
. Antique dealers, like me, often relish finding a shutter panel from years gone by. With their classic fashion elegance, those shutters can be re-finished to bring new life to a lost treasure, or showcased as is, for a more vintage style of decorating.
I also hold a full-time job at an
Interior Design Workroom
, where, for years, we've fabricated high-quality window treatments and home decorating accents that grace beautiful homes all across the United States. Right now I have, featured in my store, a selection of brand new Plantation Shutters that were ordered, and later canceled, by a client. Alas, it was too late to stop production. The good news? This is
your
chance to grab those shutters at
wholesale
pricing!
You'll find two styles of Plantation Shutters available. The photo at the left shows a smaller single shutter panel, of which we have 12 panels available in different widths and lengths. Additionally, we have 13 taller panels. Panels with long lengths often feature a
center rail
, which is basically a divider, placed at the consumer's specified height, to provide support and structure for a tall shutter. One of the features I especially like about center rails, is that they offer independent operation to the upper and lower halves of the shutter louvers, (meaning that you may keep one half closed, for sun blockage, while opening the other half, for air ventilation).
These shutters were manufactured by
Lafayette
. Located in West Lafayette, IN, this outstanding company can trace it's roots back to 1942! Highly recognized as one of the industry's top manufacturer's, Lafayette remains a widely used supplier of not only shutters, but a variety of popular blinds and shades.
Don't miss out on this fantastic opportunity to decorate your home with quality solid hardwood shutters!
Click here to view the available shutters
.