This week's blog is about a project that I've been working on for several months. You see, I have this friend who was very supportive when I told her that I was going to move my auction business to a new site. It was scary to try something new, yet she was always a source of understanding & motivation! So, I wanted to do something special for her this holiday season... something to show her how happy I was at OnlineAuction.com, and how many great sellers I have met and dealt with. So here it is! And without further adieu, a note of thanks to all the sellers for offering such great products at fantastic prices!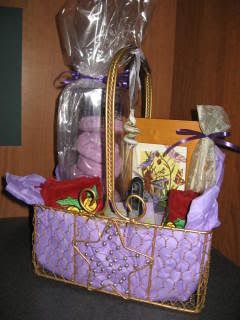 Inside this cute basket she found:
2 bars Lavender scented Goat Milk Soap, from
m
etzymom
1 pair purple swarovski pewter earrings, from
15gnomes
1 Amy Brown Postcard, Music for the Butterflies Fairy, from
thefabricstash
She was thrilled!
And don't forget to visit the listings of these fine sellers...
all their names are clickable links,
& I can personally recommend their product quality
& excellent customer service!
So, the holiday season is upon us!
I hope you all have a blessed week!

Next week we'll feature another round of
Name That Seller!
Be sure to stop by and see the latest buzz at
http://www.onlineauction.com
http://onlineauction.com/store/fleapirates
Inquiring minds want to know:
http://ebayandbeyond.wordpress.com/2008/12/21/who-are-the-people-behind-the-curtain-at-powersellersunitecom/