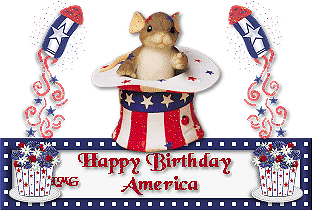 Wishing a Safe and Happy 4th of July to All!
How are you celebrating?

We've got a laid-back day planned,
which started with our town's parade,
continues with a barbeque for friends and family,
and climaxes with an evening of fireworks!
They're always fabulous...
thanks, City of Highland Park, IL!




Actually, yesterday my teenagers attended the
Taste of Chicago
and
the Chicago Lakefront Fireworks,
and they said while it was
jam packed with people,
both events were spectacular!
If you haven't had the chance to visit
Chicago and sample the treats at
The Taste of Chicago, th
is would be a trip
that I would highly recommend!

In the midst of all this fun,
I am also working on adding more listings
at my store, Fleapirates Plunder,
which you'll find at OnlineAuction.com.

Today, I'll be adding more baseball cards...
whats more Ameri
can than good 'ole
baseball, hot dogs and apple pie?