Have you been selling online for a while? Perhaps you started out on eBay, like I did. Oh boy, was that fun and easy! Five to ten years ago, all you had to do was put up a photograph and a description on eBay, (almost any item), and the odds were good that someone out there would see it and buy it. The economy was in a better place and people were spending. eBay's user base grew. Sellers were happy.
As the eCommerce world has evolved, and our economy has taken a turn for the worse, sellers are finding themselves with few options... change strategies or be left out in the cold. eBay isn't quite the selling venue it used to be, since they implemented regulations that cater to buyers whims, define what you sell, how you ship, what payment methods you accept, and add higher costs for the priviledge of selling there. Many sellers felt pressed to break out on their own, or join alternative auction sites, and let me tell you,
old habits really are hard to break
!
The habit I would like to discuss today is
complacency
. The definition of complacency is:
contented to a fault with oneself or one's actions
. Are you complacent in how you handle your online selling? Are you sticking to what you know, instead of reaching out to learn new ways to be successful? This article is intended to motivate you into finding new ways to enhance your online business. We're going to talk about
The OLA Six Week Stimulus Extravaganza
, but rest assured, these tips apply to any venue and any website.
The OLA Six Week Stimulus Extravaganza was developed with two goals in mind:
1.) To promote a sustained advertising campaign for
OnlineAuction.com
.
2.) To share search engine optimization tips between sellers.
I follow an interesting lady on Twitter. Her ID is
TrumpAllCanada
. She is a marketing representative for the Trump Network. (Not a bad job, eh?) Her posts are always motivational and/or inspirational, and I have enjoyed following her tremendously. This week, she quoted J Paul Getty, one of the first billionaires.
I would rather have 1% of 100 peoples efforts than 100% of my own efforts.
Take a moment to really let that sink in... is that not the absolute definition of teamwork? The OLA Six Week Stimulus Extravaganza is meant to be exactly that... a team effort!
To participate in the Extravaganza, you do
not
have to be a current user of social networking sites, like
Twitter
or
Facebook
. The members who
are
using those services will promote all the items in the Event, and you will see an increase in the amount of views your auctions are receiving. Both sites I mentioned are free, and while joining their community is entirely up to you, the Event offers you the opportunity to give them a try while there are other members available to mentor you, to join you, to support you, and to applaud your efforts.
The guidelines established for the Extravaganza are fairly simple. Adhering to each guideline also improves your chances for winning a great prize! There has been some confusion over why certain guidelines / tips have been included, so here is a brief explanation of what some of the more important guidelines will do for you. Remember, these tips can be used at any site.
1.) Use a keyword rich title, limiting yourself to 72 characters.
2.) Use the subtitle space, with a maximum of 50 characters, and be sure it contains keywords from your title.
3.) Use your title as the first wording in your description.
How is this important?
Take a look at the graphics below. These are two examples of search engine results. Pay particular attention to what words are included in the results.
This example shows you how keywords in your title can improve the way in which people find your auction listing. The title of the auction is in blue, and is one of the ways search engines locate our items for buyers. The words below the title are directly taken from the description area. Having a title and subtitle with popular keywords is essential to helping buyers find you. Using your title
and subtitle
to start your description allows the search engine spiders to further determine relevancy and rank... it like getting a double bang for your buck!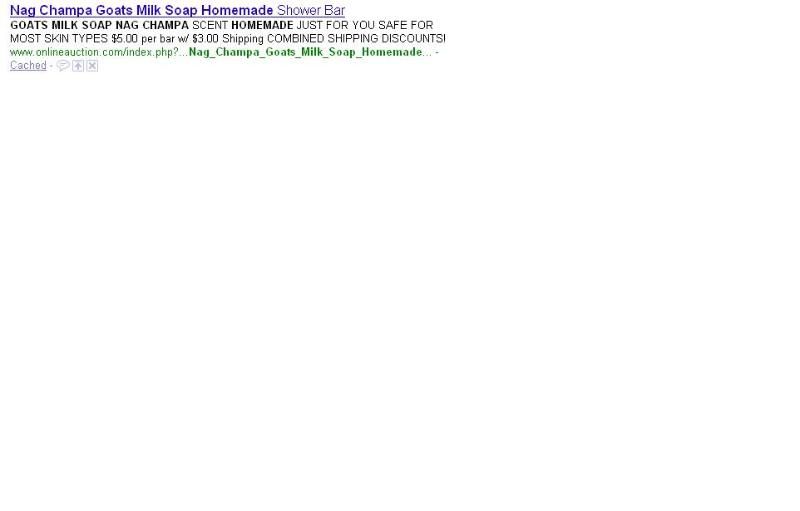 In the next example, you should know that the subtitle was used to include keywords only. The subtitle was not sentence-based, nor was it included in the description. Subtitles are used primarily for the benefit of the search engine spiders, and because the subtitle corresponded to the keywords in the title and description, an optimal rank was achieved.
Both of the above examples are acceptable! It is the keywords, the title and the character count that matter. Thinking in terms of character counts, imagine if this seller had used a bunch of meaningless words in the title, (like LOOK! and WOW! and AMAZING!), taking it in upwards of 72 characters. Would the search engines have categorized the product correctly? Perhaps not, and to make matters worse, as a buyer, you would not get the full impact of what was being sold, so would you click through? Absolutely not.
In addition, today's sellers must understand that searching is entirely relative to the person who is making the search. In the first example above, one buyer may use the words
Disney In The Picture Frame Mickey
, where they would find that particular listing number 1 out of 119,000 results. Others might use
Disney Frame Mickey Minnie
, where this listing would be found in the second spot out of 58,000 results. Less specific buyers may only use the words
Disney Picture Frame Mickey
, where this listing would appear on page 6 out of 252,000 results. Those results change quite rapidly, too, as people are creating new pages with those same keywords and older, irrelevant pages are falling in rank. Your best bet is to write good content, include the keywords that will best match your item, and create backlinks, to show support for the item.
What is a backlink?

Backlinks are in-bound links, created when an outside website hosts a link pointing back to a particular item. For example, when you post an item to Twitter, the link you provide is a backlink. Think of each backlink as a popularity vote for your item. The more popular items get better search engine visibility, so place links everywhere you can! Twitter, Facebook, MySpace, and blogs are a great way to develop backlinks.
Getting back to the Extravaganza guidelines...
4.) Use your exact title at the very end of your description.
Why?
Because, at OLA, for example, the entire description box you find in the
Sell Your Item
form is considered as your description to the search engine spiders. Many sellers use this area to place wording about Shipping, Payment Options and Terms. You should place your title in the last paragraph because search engine spiders gather the most information from your first paragraph, (about 25 words), and your last paragraph, (also about 25 words). The middle, where you are doing the majority of your selling, and clarifying your terms, is skimmed over for keywords, but is not indexed as closely as the other two paragraphs... it's
fluff
. Putting that title back in at the end is a reaffirmation of your original wording, and stands to add relevancy to your keywords.
5.) In your description, be sure to include a link back to your store.
Another backlink?
You bet! Only this time it links to your store, (or to your list of items, if you don't have a storefront). Once you get an interested buyer, placing a link to your other items makes it easy for them to continue shopping with you! For OLA members, that link looks like this, with your user-name in place of mine:
http://www.onlineauction.com/store/fleapirates
Lastly, 6.) Name your photos!
How?
Basically, rename them once they are stored on your hard drive, and before you upload them to a hosting site, like Photobucket or OLA itself. For more information about how naming images can benefit you, please read
this article
, from one of my favorite SEO resources,
Site-Reference.com
.
All of the guidelines above have been tested by me and other sellers contributing to the Extravaganza. As stated earlier, these techniques are universal. Testing, for me, is a long process in which I create two similar listings, with differing attributes, and I monitor which one gets better search engine placement, traffic and a quicker sale. I highly suggest that you employ similar tactics to locate positive results of your own!
Use one or use them all... break that old complacency habit and start taking control of your search engine placement and traffic. There are certainly more tips to be found in the world of SEO, so please share with us if you have found a winner!
Don't forget to shop
The OLA Six Week Stimulus Extravaganza
, starting January 31st, 2010!