Hello everyone! Today's

OLA Tuesday Tidbit
explores the world of

WYSIWYG Editors

, & the need for OLA members to learn how to use them. Many members enjoy making auction templates, store backgrounds & chat signatures with colorful graphics, unique images & distinctive font styles. This creativity is more easily achieved with the assistance of an outside WYSIWYG editor.

WYSIWYG is an acronym for What You See Is What You Get, used in computing to describe a system in which content displayed during editing appears very similar to the final output, which might be a printed document, web page, slide presentation or even the lighting for a theatrical event.
The phrase was originally a catch phrase popularized by Flip Wilson's drag persona "Geraldine" (from Rowan & Martin's Laugh-In in the late 60s and then on The Flip Wilson Show until 1974), who would often say "What you see is what you get" to excuse her quirky behavior.
(I loved that show! Didn't you?)

For the past year, I've been touting the editor at Creating Online. It is simple to use, and fulfills all my needs in making auction templates, etc. However, Creating Online has one drawback... it does not operate well within Mozilla Firefox browsers. Like many users, I have gotten away from using Internet Explorer, preferring the security & ease of Firefox. What to do???
After getting frustrated with searching editors online, I contacted my buddy Rowen, at OnlineAuction.com. He actually gave me links to 4 different editors, and after doing some research, I have found one that I really like! It is from Trellian WebPage, it's a download, & it has capabilities to help someone publish a web page. So many new gadgets to investigate! What I needed, (the editor), was easy to locate and use, & I am looking forward to learning the rest of their tools. Check them out!

While I was surfing the net today, I also ran across an interesting blog from ProBlogger, Darren Rowse. He surveyed online users about what would they prefer - to have more blog readers or more Twitter followers. Twitter may be new, but people are flocking to it by the thousands, & while it did not get many of the votes in his poll, many people would be interested to see if the results would change in a year from now. I am following Darren on Twitter now, because he's a social media participant & a full time blogger, & I think he will have many, many informative posts. I hope you'll all take a moment to check out his blog! And do tell... how would you have voted?
FLEAPIRATES TUESDAY TREASURE: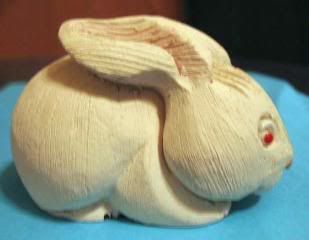 Artesania Rinconada # 38 Rabbit Figurine. This treasure is now retired. Excellent condition, with no chips cracks or breaks. Artist signature is on the bottom. Measures 2 inches tall x 3 1/4 inches wide. Weighs 6 1/2 ounces. Hand-carved & detailed in fine grain earthenware ceramic material.

ABOUT THE ARTISTS:
Artesania Rinconada was founded in Montevideo, Uruguay, by twin brothers, Jesus & Javier Carbajales. Born in Spain, the twins moved to Uruguay in 1936, when the Spanish Civil War erupted, but never forgot their spanish roots. Focusing upon nature, they released the Classic Collection in 1972. Over the years, other collections have been added, such as, The Silver Anniversary Collection, Rincababies, the Emerald Collection, and the DeRosa Box & Dolls Collections. Highly collectible, these figurines are still widely popular in stores today. Many of the older pieces are now retired and difficult to find.

Click HERE to see the details of this auction!

Click HERE to browse other collectibles in my OLA House!