Treasure hunting is one of my favorite past-times. I especially love to frequent local garage sales, always on the lookout for that antique diamond-in-the-rough that an unknowing housewife will let go for a fraction of it's actual worth. Often my journeys take me into Church Rummage Sales, Fund-raising Events, and local Consignment Shops. Sometimes those treasures are found from other online sellers.
Do you ever find that those same treasures have become pieces that you just can't live without? LOL... I do! Not long ago I bought one from
OLA
's own
Supergranny
!
The moment I saw the photo, I knew it was mine.
Let me tell you about this little gem. It's a lead crystal candle holder, made by
Fostoria
, for
Princess House
. Beautifully cut, I could imagine all sorts of arrangements that could be displayed. It is unusual in the fact that it holds 3 taper candles... half-inch candles! Did you know how hard it is to find half-inch taper candles? Whew! Now another quest had begun!
After much searching through local stores and boutiques, I finally found my quarry online. It turns out that those candles are
specialty
candles, and few stores carry them. I pla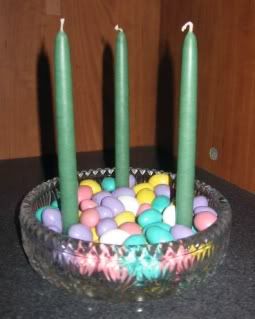 ced my order with
BuyACandle.com
.
You'll find their products reasonably priced, with fast, affordable shipping, and a large assortment of products! My candles are perfect, and arrived expertly packaged. Kudos to another fine example of online retailing! Please take a moment to click on their name and check out their site. (Check out
Supergranny
, too! She's got loads of quality collectibles!)
So I have decorated with a seasonal theme this week. I wonder if those
M&M
Eggs will survive all the way to Easter, with 2 teenagers in my house?